Clyde Hippchen
For over 35 years Clyde has worked in the construction industry here in Brevard and Indian River Counties.

For some 30 years he has specialized in exterior door installation, both commercial, residential and custom projects. He has hung thousands of doors and is known as one of the finest door installers in the area.

Quality craftsmanship is a hallmark of every door installation job Clyde does. From the initial job quote to the finishing touches, you will be impressed with his work ethic.

Even the most beautiful door can be compromised by poor workmanship.
Clyde's Experience Insures a Flawless Job!
BEFORE & AFTER
Installation Projects Image Gallery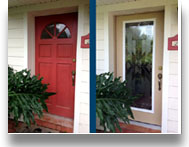 Dress Up Your Entryway!
Getting the Permit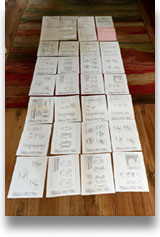 This is the amount of permit paperwork required for a new or replacement door.

We Can Assist!
Clyde has installed over 400 doors in the first six months of 2016!
What does 412 doors look like? Click Here
Clyde Hippchen, Brevard County Door Contractor provides a variety of residential and commercial door installation, maintenance, and repair services. Clyde Hippchen Carpentry has has specialized in exterior door installation throughout Brevard and Indian River Counties for the last 30 years. From Melbourne Beach to Indialantic to Viera and Suntree, you will find Clyde's mark on 1000s of homes and businesses.
Our long time working relationships with major home builders and individual homeowners in the area is a testament to the quality of workmanship and the years of experience that we bring to the job everyday. Clyde Hippchen Carpentry is fully licensed & insured, registered to perform carpentry work in the state of Florida, WD234.
Whether you need a new door installed or a replacement, upgraded door we can handle the job. We have experience in both large sub-division construction, as well as custom door installation for luxury homes here in Brevard. Look no further for a quality, reliable door installer. To obtain a no cost estimate today call Clyde Hippchen Carpentry at (321) 508-8942.
We Know Doors!

Trust Clyde Hippchen Carpentry for Quality Door Installation

Custom Wood Entries
Exterior Door Replacement
Exterior Pre-Hangs
Custom Door Units Built On-Site
Fire Doors
Security Doors
Hollow Metal
Aluminum and Glass Storefront Service
Cylindrical and Mortise Lock-sets
Panic Devices
Closers, Hold-Opens and Actuators
Whether you have recently moved into a new home and would like to add some of your own personal touches or you would like to replace the existing entry doors due rot, decay or non-functioning, we can educate you on the important options for exterior doors. A new door installed at the entry to your home can be a major focal point that will help add curb appeal or be an unnoticed addition.
Check out our before and after image gallery.